Your wedding hotel
for an unforgettable day
Have you got engaged and want to start
planning your wedding
? Have you been dreaming about your special day for a long time and need a
wedding venue in the Tyrolean Lowlands
where you are in good hands?
The Speckbacher Hof has decade-long experience of catering for weddings and knows what is important. We are happy to advise you about your big day and will be at your side when you decide on the details.






























































































Our rooms for you and your wedding guests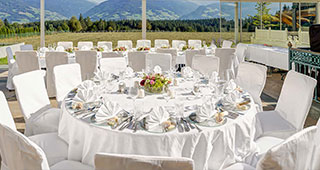 Wintergarten
250–300 people
360m2
usable all year round thanks to the closable roof
including stage
can also be furnished with presentation equipment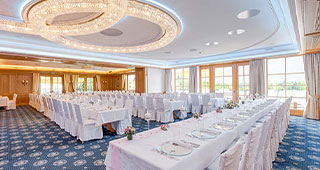 Theres & André Rooms
130–200 people
240m2
high-tech equipment
double access to the terrace
panorama windows

André Room
60–120 people
150m2
high-tech equipment
access to terrace
can be combined with Theres Room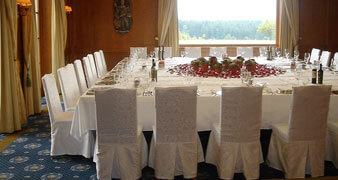 Theres Room
50–70 people
90m2
high-tech equipment
access to terrace
panorama windows
can be combined with André Room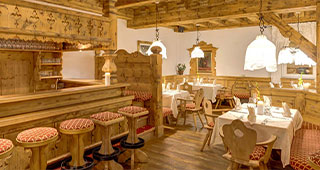 Barstube
2–35 people
including your own bar
can also be furnished with presentation equipment
Speckbacherstube
2–30 people
own fire-place
can also be furnished with presentation equipment
location steeped in history
Our offers for your wedding menu
Classic menu:
flower-herb salad with balsamico vinaigrette, mozzarella balls & tomatoes
prime boiled beef consommé with semolina dumplings & vegetable strips
veal fillets, beef & herb pork with potato gratin, chanterelle à la crème & vegetable bouquet
Speckbacher's chocolate mousse slices with raspberries, almond crumble & chocolate sand
Price: € 67,00 pp
Menu 1 Spring:
salad with grilled green asparagus, roast beef & Bozen sauce
foam of pea soup with croûtons
Tyrolean saddle of mountain lamb au gratin with olive tapenade, tomato-potato roulade & French beans
marinated strawberries with Tahiti vanilla ice cream, mascarpone whip & crumble
Price: € 73,00 pp
Menu 2 Spring:
mildly smoked trout with marinated cucumber, radishes & fresh horseradish
Tyrolean beef consommé with quark truffle spätzle
slice of roast beef with béarnaise sauce, fresh market vegetables & roast potatoes
exotic fruit salad with white mousse au chocolat, almond sponge & avocado
Price: € 64,00 pp
Menu 3 Spring:
Smoked wild salmon with cream cheese tartlet, herb salad & dill-mustard cream
foam of cauliflower soup with cress
slice of saddle of veal with parmesan gnocchi, chanterelle à la crème & white asparagus
passion fruit tartlet with vanilla biscuit, mousse au chocolat & mango sorbet
Price: € 67,00 pp
Menu 1 Summer:
Parma ham with parmesan chips, cantaloupe melon & grissini
foam of fresh garden herb soup with quark dumpling
free-range chicken breast with foam of basil, Mediterranean vegetables & tomato risotto
"summer in a jar": exotic fruit salad with coconut milk mousse, mango sorbet & vanilla foam
Price: € 61,00 pp
Menu 2 Summer:
tartare of yellow fin tuna with coriander-apple sauce, lemon gel & avocado
foam of celeriac soup with baked celeriac leaf
slice of Tyrolean saddle of veal with truffle stock, glazed chanterelles & pea purée
tarte of Valrhona mousse au chocolat with raspberries, lemon-raspberry sorbet & meringue
Price: € 67,00 pp
Menu 3 Summer:
Asian vegetable spring roll with glass noodles, pak choi salad & sweet chili sauce
foam of Thaur carrot soup with ginger & apple
Tyrolean veal porterhouse steak with béarnaise sauce, potato and pumpkin tarte & French beans with bacon
vanilla cream of quark slice with shortcrust pastry, basil sand & strawberry ice cream
Price: € 64,00 pp
Menu 1 Autumn:
herb salad with raspberry dressing, glazed chanterelles & parmesan chips
foam of Muscat pumpkin soup with ginger
roast duck breast with elderberry glacé, creamed cabbage & semolina dumplings
warm chocolate cake with creamy cinnamon ice cream, preserved damsons & rum anglaise
Price: € 64,00 pp
Menu 2 Autumn:
smoked fillet of trout with marinated grapes, hazelnut oil powder & cream of chives
foam of Thaur potato soup with crispy porcino mushroom parcels
medaillon of Tyrolean veal fillet with Café de Paris foam, roast potato croquettes & pumpkin
Cantuccini tiramisu with preserved cherries, gingerbread mousse & cardamom ice cream
Price: € 75,00 pp
Menu 3 Autumn:
Tyrolean venison stew with quark dumplings, wild lingonberries & candied walnuts
cream of porcino mushroom soup with beef tartare
slice of veal saddle with glazed porcino mushrooms, herb risotto & parmesan foam
Tahiti vanilla crème brûlée with blueberries, crispy pastry with nut filling & fruits of the forest ice cream
Price: € 67,00 pp
Menu 1 Winter:
gammon smoked on forest aromas with wild lingonberries, crispy dumpling chips & candied walnuts
venison consommé with puff-pastry parcels
grilled medaillon of tenderloin steak in Rossini stock, glazed winter asparagus & shallot purée
cream cake slice with mousse of Arabica coffee with mandarins, hazelnut praline & chocolate sand
Price: € 75,00 pp
Menu 2 Winter:
tartare of marinated arctic char with soured cream, marinated capers & gherkin noodles
foam of chestnut soup with croûtons
braised organic veal shoulder with cream of Jerusalem artichoke, white truffle foam & almond broccoli
panna cotta with preserved cherries, chocolate ice cream & lavender
Price: € 61,00 pp
Menu 3 Winter:
melted French Camembert with lingonberries, preserved williams pear & lamb's lettuce
Tyrolean veal consommé with porcino mushroom dumplings
seasoned saddle of Tyrolean venison with preserved rowan berries, roasted brioche & red cabbage
warm chocolate cake with gingerbread liqueur, preserved cherries & hazelnut ice cream
price: € 81,00 pp
Important information about our wedding hotel
Overnight stays for all wedding guests:
Our wedding venue in Innsbruck is big enough to give all your hotel guests overnight accommodation. Each of our rooms has about 50m2 and a beautiful view of the starry sky. The next morning every guest can enjoy our 50m long breakfast buffet.
Bridal suite for bride and groom:
Our wedding venue has its own suite for the bridal couple. The suite is decorated according to the occasion and has, among other things, an additional bathtub. The wedding suite is already available for dressing, styling etc. on the morning of the big day.
Unlimited advice:
Our goal is to make the wedding of your dreams possible for you. For this reason, our hotel's own wedding planner is available for consultation at any time.
Wedding planning procedure
Step 1: You come to our wedding venue for a non-binding initial consultation. There we can exchange ideas and advise you on the details of your wedding.
Step 2: You have the possibility to leave your phone number and register for your desired date (Caution: This does not equal any reservation!). We will contact you again after 3 weeks to confirm or cancel your appointment.
Step 3: If you would like to fix your wedding date, you will receive a written confirmation from us. In return we will receive a deposit of € 1.000. We will also send you a checklist for wedding couples so that you don't forget anything important.
Step 4: After we have selected a menu together, you are welcome to taste it at a sample dinner. We will be happy to serve you the matching wines. We cover the costs for the wine accompaniment, you only pay for the menu. Please bring the completed checklist with you to the tasting.
Step 5: One week before your wedding date there will be a final meeting with our wedding planer. At this final meeting you hand over everything you wish to us (place cards, guest gifts, GPT documents, etc.). Additionally you have the possibility to hand in your suitcase at the reception when you stay with us.
Step 6: The final account is discussed jointly and checked for correctness. Payment must be made no later than 3 days after the event.
The advantages of our wedding venue
Here's what guests have to say about our hotel:
"We particularly liked the fact that we were able to design our celebration individually and that we could choose which lounge we wanted to use, which was then reserved exclusively for our guests. Not to mention the attentive service staff, the child-friendly atmosphere and the generous parking spaces. Our family celebration in Alpenhotel Speckbacher Hof was an out and out success".
Cornelia & Christof Mergl with their son, Adrian (christening party, from Innsbruck)
"We would like to thank you again for the wonderful stay we had at your hotel. All 15 days and nights were superb. You have a terrific staff, who outdid themselves to make us feel at home and welcome at the Speckbacher Hof."
Anna & Joel Young (retired couple, Gemünden)
"We have been coming here for over 20 years. I celebrated my graduation here at the Speckbacher Hof and we also come here for family parties. Above all I like the different sized rooms. You can find the right setting for any number of guests."
Michael Harthaller (lawyer, Innsbruck)
"The homely atmosphere, the spacious rooms and the first-class cuisine are all reasons why I spend several short holidays a year here at Speckbacher Hof. I have already stayed here on numerous occasions and have always been completely satisfied with everything during my stay. I particularly like the way that the hotel is decorated and the CLASSY RUSTIC combination."
Alois Neuner (music teacher & cabaret artist, 59 years old, Innsbruck)
"Speckbacher Hof is the perfect place to unwind, with excellent food and pure relaxation. Mr Hofmann and his team have indulged us every time we've stayed here with their friendliness and kindness."
Kristina & Peter Volkamer (Unterhaching, have been regular guests at the Alpenhotel Speckbacher Hof since 2014)
"I especially value this hotel for its absolute tranquillity, family atmosphere as well as the discretion and helpfulness of the staff. The impressive panoramic views, the excellent cuisine, the service and the opportunity to enjoy total relaxation in the wellness area are what make this hotel perfect."
Karin Kellner (MSL, comes all the way from Vienna to stay at the Alpenhotel Speckbacher Hof)
"A great place to unwind for one day, enjoy a copious brunch, relax and admire the scenery. Thanks for a relaxing few hours at Speckbacher Hof."
Ines & David (Product manager and student from Innsbruck)
"We would like to say a massive thank you to the entire team for a great stay over New Year and for the delicious food. What makes Speckbacher Hof stand out?: Its attentive and competent team, the outstanding food and the amazing atmosphere."
Julien Kneuse & Michaela Merk (artist and occupational therapist from Augsburg)
"What makes Speckbacher Hof special? The idyllic location is a place of total peace and relaxation. After a sauna session, you can simply sit back, unwind and enjoy the views of the magical landscape that surrounds the hotel. Cultivated atmosphere. We have been regular guests since 2012 and can't wait to come back again!!"
Verena & Angelo Scharff (married couple from Bottrop)
Book your desired date for your wedding now