About us
and our Speckbacher Hof in Gnadenwald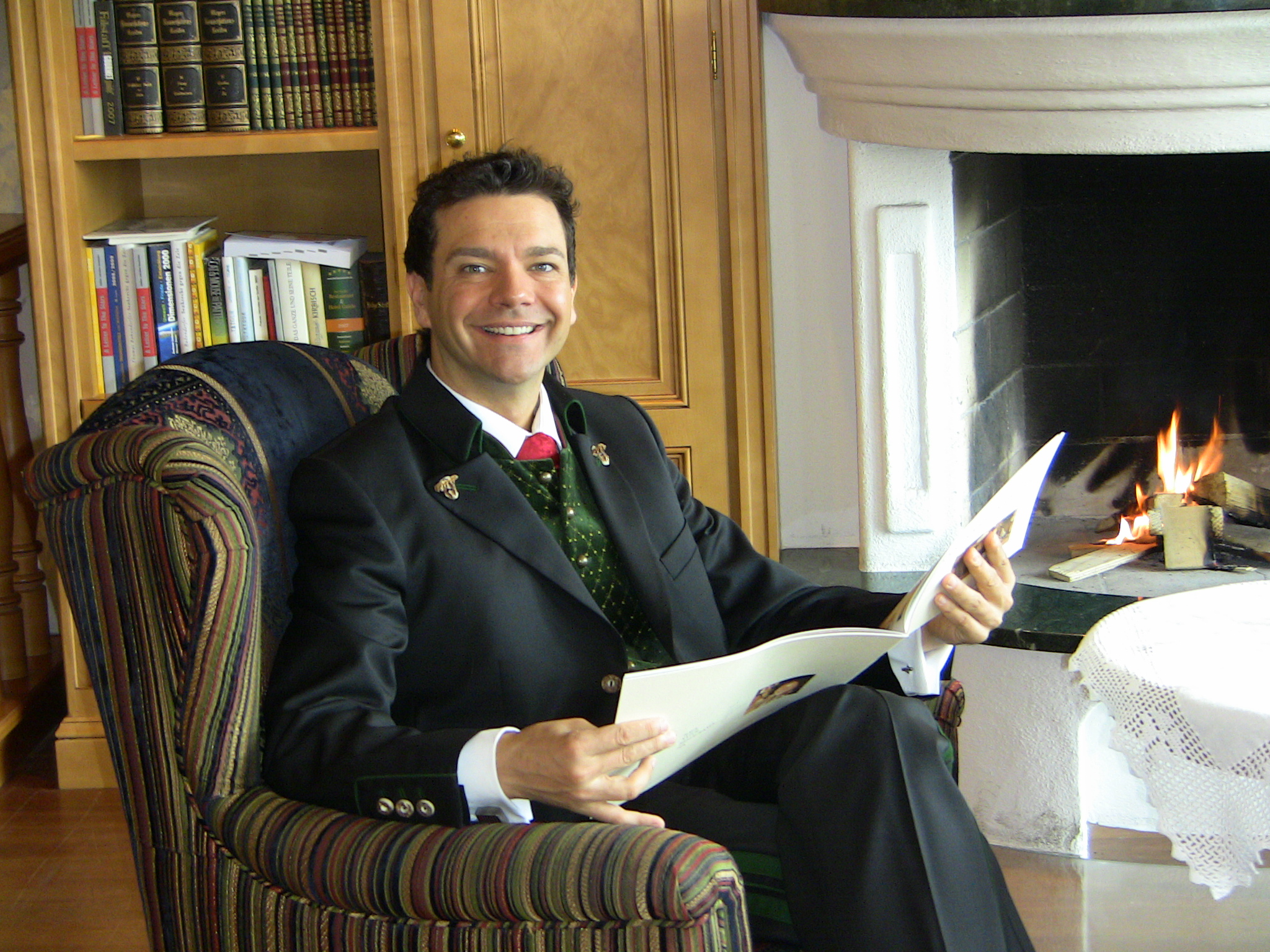 Our 4-star hotel near Innsbruck is managed by the famous restaurateur and hotelier family, the Hofmanns, and offers both traditional Tyrolean-style areas (like the Speckbacherstube) and recently renovated rooms in a modern Tyrolean country house style.
Speckbacher Hof has 38 spacious rooms and 120 beds. The hotel also has a wellness area, that you are free to use to relax and be pampered.
Our hotel kitchen offers a real culinary experience that can be booked for weddings, family celebrations, conferences or seminars and that can provide up to 350 people with drinks and food.
At Speckbacher Hof, there is a wide range of leisure activities for families, couples and individuals. Here with us in Gnadenwald, you can leave the stresses of everyday life behind and enjoy an unforgettable holiday with your loved ones.
Our hotel near Innsbruck also has a past steeped in history. You can find out more about the past of the hotel under the History of Speckbacher Hof section.
The advantages of the Alpenhotel Speckbacher Hof
50m2 rooms with balcony:
All our guests can look forward to staying in a spacious 50m2 room. Each room also has a balcony from which guests have an unobstructed view of the hotel's natural swimming pool and can watch the starry sky at night.
50m breakfast buffet:
Each morning you can enjoy a 50m-long and richly varied breakfast buffet. There are 15 different types of fruit and 10 different organic mueslis, as well as many other products, to choose from. We also offer fresh juices, salmon, roast beef and veal sausages.
Small but perfectly formed wellness area:
For a really relaxing holiday, pay our wellness area a visit. Here you will find a small steam sauna, a sauna and individual water beds. You can also use our outdoor whirlpool, if it takes your fancy. The use of our wellness facilities is included in the price of your room.
The most animal-friendly hotel in Austria:
Your pets are also welcome to stay at Speckbacher Hof. Whether it be a horse, a dog, a cat, a mouse, a domestic pig, a giraffe or an elephant – our Alpine hotel is ready to welcome all guests. For larger pets, we even have our very own stables (within walking distance of the hotel). Smaller animals will be provided with food and water dishes in their room.
Here's what guests have to say about our hotel:
"We particularly liked the fact that we were able to design our celebration individually and that we could choose which lounge we wanted to use, which was then reserved exclusively for our guests. The amazing service team, the child-friendly atmosphere and the great parking facilities are all also worth mentioning. We had a fantastic family celebration at the Alpenhotel Speckbacher Hof."
Cornelia & Christof Mergl with their son Adrian (christening party, from Innsbruck)
"We would like to thank you again for the wonderful stay we had at your hotel. All 15 days and nights were superb. You have a terrific staff, who outdid themselves to make us feel at home and welcome in the Speckbacher Hof."
Anna & Joel Young (retired couple, Gemünden)
"We've been coming here for over 20 years. I celebrated my graduation here at the Speckbacher Hof and we also come here for family parties. I particularly like the variety of spaces that guests can book and use. It means that you can find the right atmosphere no matter the number of guests."
Michael Harthaller (lawyer, Innsbruck)
"The homely atmosphere, the spacious rooms and the first-class cuisine are all reasons why I spend several short holidays a year here at Speckbacher Hof. I have already stayed here on numerous occasions and have always been completely satisfied with everything during my stay. I particularly like the way that the hotel is decorated and the CLASSY RUSTIC combination."
Alois Neuner (music teacher and cabaret artist, 59, Innsbruck)
"Speckbacher Hof is the perfect place to unwind, with excellent food and pure relaxation. Mr Hofmann and his team spoil us with their friendliness and accommodating nature during every stay."
Kristina & Peter Volkamer (Unterhaching, have been regular guests at the Alpenhotel Speckbacher Hof since 2014)




































The History of Speckbacher Hof
The story of our hotel began in 1499, with the construction of the Mesnerhaus (the sexton's house, also known as the "Küster") near St. Martin's Abbey in Gnadenwald. The house was originally used to host priests and church-goers, however over the years it was turned into a public inn known as the "Koandlwirt".
The year 1720 was a turning point for what is now our hotel, as it was during this year that it was granted a licence to sell beer and brandy. Thanks to this, not only could guests eat well in the Koandlwirt inn, they could also drink to their heart's content. In 1900, the inn was given the name "Zum Speckbacher" in memory of Joseph Speckbacher, a Tyrolean freedom fighter who fought on the side of Andreas Hofer.
It was here in this inn – in what is now our Speckbacherstube – that Speckbacher and his companions devised their plans to take down the French forces in the region. Their big triumph came in 1809 when they forced Napoleon's troops to retreat at Bergisel.